Loading the player ...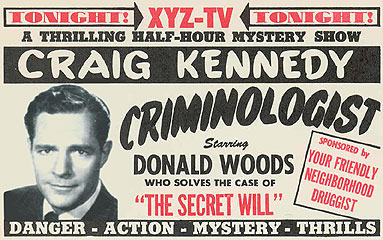 Synopsis
1616 HIDDEN LANE ROAD (1953)  Craig Kennedy finds himself in an uncomfortable position between a gullible matron (Liz Slifer) with a guilt complex, and a racketeering combine with a yen for $200,000 in cash. With Coulter Irwin.
AMATEUR GHOST (1951) A photograph of a crusading councilman with two hoodlums threatens his career until Craig Kennedy conducts some experiments in trick photography.
BIG SHAKEDOWN (1952) Murder enters a shakedown racket when Craig Kennedy trails a gambling combine.
CASE OF FLEMING LEWIS (1952) A planned fishing trip turns into a murder mystery when a wealthy chemist, Fleming Lewis (Jack Mulhall), who is host to Craig Kennedy (Donald Woods), Evening Star reporter Walter Jameson (Lewis Wilson) and police Inspector J. J. Burke (Sydney Mason), is killed.
DEAD RIGHT (1952) The weakling nephew of a Texas cattleman attempts to kill Craig Kennedy when he is framed for an attempted murder and a consummated robbery.
FALSE CLAIMANT (1952) An amnesia victim, a gardener who hates flowers and green grass, and a million-dollar art collection are involved in this episode of "Craig Kennedy Criminologist."
FILE 1313 (1952) Craig Kennedy is slugged as he interrupts two intruders who are rifling the files in his office. Kennedy's File 1313, dealing with his investigation of an involved electronic device, disappears.
FORMULA FOR MURDER (1952) A blond actress and a glamorous brunette both claim the love of a murdered research dietician, but Craig Kennedy brews his own formula for justice when he proves that professed love can be greed and jealousy, and that avarice not only leads to crime, but to poison as well. 
FUGITIVE MONEY (1951) A blonde walks into Craig Kennedy's office, plunks down $50,000 in cash on his desk, and offers him the whole amount if he will find her fiancé. But the money is hot and sought by the police along with the missing boy friend.
GOLDEN DAGGER (1951) Strange hieroglyphics on a golden dagger provide a motive for murder. Crag Kennedy, called upon to translate the markings on the evil-omened knife, is drawn into a bizarre mystery when a collector of antiques is shot to death.
I HATE MONEY (1952) Craig Kennedy assumes the role of a tramp to probe the mystery of why an old man prefers to live in a hobo's shack rather than accept a half-million dollar inheritance.
INDIAN GIVER (1952) Craig Kennedy, Inspector Burke and reporter Walter Jameson uncover a plot to smuggle a revolutionary steel formula out of the country.
KID BROTHER (1952) The cooperation of a youngster and Craig Kennedy's examination of an apparently innocent letter bring an incipient crime career to a sudden end.
LATE CORPSE (1951) Craig Kennedy's knowledge of minerals and precious stones uncovers a cruel hoax, which takes Kennedy from a desert in Mexico to a lavish penthouse in an American city.
LONELY HEARTS CLUB (1951) Kennedy and his friend, reporter Walter Jameson, pose as a couple of seafaring men to save an old man from murder, as Kennedy's skills pay off as he unravels the mystery of a hoodlum who forces the operator of a Lonely Hearts Club to furnish him with a groom for a  brunette beauty.
MUMMY'S SECRET (1952) In a holiday mood, Craig Kenney, Inspector Burke and Walt Jameson  visit a carnival and find mystery, danger and suspense involving a group of weird sideshow mummies.
MURDER ON A MILLION (1952) An elderly inventor falls wounded at the door of Craig Kennedy's crime laboratory and a short time later, Inspector Burke finds the wounded man's partner shot to death in his palatial home.
MURDER ON STAGE NINE (1951) Murder is performed before the eyes of dozens of witnesses on a Hollywood motion picture set when a killer switches a real gun for a prop gun.
MURDER PREFERRED (1951) Craig Kennedy hears the murder shots as a  gambler makes a phone appeal for help that is too late. Kennedy use his training in psychology to translate some apparently illegible doodlings on a page of a phone book into the thoughts which occupied the mind of the murdered man during his last living moments.
MYSTERY BULLET (1952) An ingenious murder device baffles Inspector Burke when a racketeering plumber is shot to death as there are no rifling marks on the death bullet. Time to call Craig Kennedy.
SECRET WILL (1951) A would-be-murderer demands payment for killing a victim, but the victim is still very much alive. Craig Kennedy unravels the mystery of a criminal who hunts his victims with a bow-and-arrow.
STRANGE DESTINY (1951) A phony doctor, a notorious smuggler, and a sultry secretary combine their talents to outwit U. S. Customs officials by the use of a plaster cast.
TALL, DARK AND DEAD (1952) Craig Kennedy investigates the murder of a well-known stage actor, and it gets bizarre when the same actor is later shot at the door of Kennedy's laboratory.
THERE'S MONEY IN IT (1952) Craig Kennedy, Inspector Burke and reporter Walt Jameson match wits with a clever gang that attempts to pass off some glass beads as the famous Von Anton Diamond Necklace.
THE TRAP (1953) Craig Kennedy poses as a tramp to solve a mystery that centers on a jewel theft and the character weakness of a two-timing wife.
VANISHER (1952) When a notorious gangster is killed by a rival hoodlum, Craig Kennedy assumes the murdered man's identity to trap the killer.
Cast
| | |
| --- | --- |
| Donald Woods | Craig Kennedy |
| Sydney Mason | |
| Mary Adams | |
| Coulter Irwin | |
| Patricia Wright | |